Details

Written by

Geomancy.Net

Category: Various Theories
Hits: 7423
How to consult the Oracle?
I-Ching, is one of the oldest and most respected Chinese ancient oracle book. Many people regularly consult the oracle, looking for guidance or inspiration. The fundamental principle is based on the belief is that all activities are the result of interaction between positive, creative, masculine forces and negative, passive femine yin forces.
The I-Ching is composed of 64 hexagrams made up of six broken or solid (unbroken) lines, texts, and commentaries. Yang is represented by the unbroken lines and yin by the broken lines.
The basic symbolic unit is a trigram. The maximum number of trigrams formed by various combinations of three lines, either solid or broken - -, is eight. By combining indidviual trigrams the hexagram is formed the total possible is 64.
The yin force refers to the negative passive weak, and destructive. It is docile and female.
The yang force refers to the positive active, strong, constructive, it is virile and male. together in groups of six lines symbolize all possible situations, forms of change and institutions.
All you need are three coins and the the table below to decode and gain access to a source of profound wisdom as well as fascinating entertainment. The I-Ching text describes these changes and relates them to human affairs.
Step 1: How to start? Take three similar coins, decide one side facing yin and the other yang. For example: Let the `head' be the yang and `tail' be the ying:
=

=

=

Two predictions

=

Two predictions
[Coin minted by The Singapore Mint]
Step 2: Throw three coins together, note the facing side. First throw becomes the bottom line. Repeat 6 times. Majority of yang faces: All three yang faces -o- All three yin faces -x- Once you have tossed the coins and arrived at your hexagram, read the text several times and pay special attention to moving lines. They are the essence of the I-Ching.
The I-Ching `Grid' is a combination of both the horizontal and vertical grids forming a total of 64 squares.
To look up the meaning on a particular number on the "java enabled" I-Ching table, point to a particular number e.g. 34. and `hold' it there for a few seconds, you will get to see a box text that says: " Success through Patience ".
This is a short interpretation of I-Ching. There are many I-Ching books available in the market if you want to know the detailed meaning of each these squares. Some I-Ching books also further sub-divide this into different categories e.g. `People', `Places', `Occupations', `Articles', `Food', `Animals', `Plants', `Season', `Weather', `Colour', `Direction' and `Miscellaneous'.
If your browser does not support JAVA, you only get to see a sample of what an I-Ching `Grid' looks like:
The above is a short interpretation of I-Ching (Only if you had enabled `Java').
The above interpretation is sufficient for the casual user of I-Ching.
Details

Written by

Geomancy.Net

Category: Various Theories
Hits: 8103
Is 9 Star Ki Identical to The Flying Star Theory?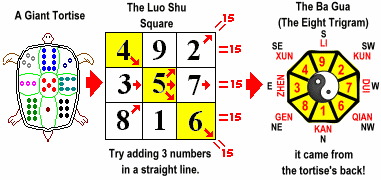 According to ancient Chinese legends, a giant tortoise surfaced from the River Lo in central China around 4,000 years ago. The ancients found a pattern on a tortise shell (see extreme right picture). There were circular dots of numbers that were arranged in a three by three nine grid pattern on it's shell.
The Flying Star Theory and Nine-Star Ki are identical in that both use the magic square where it is a 3 by 3 grid and every 3 squares in any direction adds up to 15.  In addition, both make use of the I-Ching (The ancient Book of Changes).
The difference between the two are that: The flying star theory is an "undiluted" form of Feng Shui analysis practised by traditional Feng Shui masters and it is used for many things e.g. looking at a home, office, good directions to travel and all the same things that are found in Nine-Star Ki.
In fact, I cannot separate the two. But Nine-Star Ki, as what I had researched is not traditionally practised by `true' Chinese Feng Shui Masters e.g. those that fled to Taiwan, Hong Kong, Phillipines, Singapore and Malaysia. (Where once it was banned by the communist China). Nine-Star Ki was `adapted' for use mainly in the West and Japan.  Otherwise, as I mentioned it is fundamentally based on the magic square as shown above.
There are pros and cons in using / understanding one or the other. The flying star theory is much harder to learn as it does not give you a package of tools unlike Nine-Star ki where, most authors have bundled concepts of personality traits, direction of travel etc.. to the Nine star ki. The flying star theory needs one to learn from the basic and more and later combine what u have learned.
For the Chinese, there are many good Feng Shui books written in Mandarin to aid them in this. For others without Feng Shui knowledge more difficult to combine all the concepts.
As for Nine-Star Ki, the only flaw (not the "product" itself) but many western books simply state the year field as 1990, 1991 and this is NOT correct especially for those born in January or February of the year. What the authors could do was to state more clearly e.g. 5 Jan 1990 to 27 Feburary 1991. So that if my birthday is really 4 Jan 1990, I should belong to 1989 instead of 1990. Well, other than this, Flying Star theory has what is known as mountain star and water star. Mountain star(s) are good e.g. where the back of the CEO is sitting.
For Authentic Feng Shui assessment, all Feng Shui masters use the Flying Star theory as the defacto standard. I have never heard anyone using Nine-Star ki unless to include a person's overall personality traits etc. Feng Shui assessment using the flying star theory is thus a MUST by FS experts.
Personally, I use the Flying Star Theory as I am already used to this `complex' model. The saying goes. old habits die hard:)